LET golf star and qualified physiotherapist Astrid Vayson de Pradenne has begun working in a care home to help elderly patients during the global coronavirus pandemic.
With tournament golf on hold until the Evian Championship in August, held at the Evian Resort Golf Club, where Astrid won the Jabra Ladies Open two years ago, she has secured a job as a physiotherapist in Malaucène, located a 40-minute drive from her home in Châteauneuf-du-Pape, France.
Astrid qualified for a First Class Honours Degree in Physiotherapy from the University of Plymouth in England in 2011 and after graduation, she started her career as a locum physiotherapist, working at various institutions in different locations, from Paris to rural villages as well as a more exotic location in the Indian Ocean.
She has never stopped practising professionally, however, in 2013 she decided to follow her passion for golf, a sport which she had played as a hobby since the age of 15, before becoming a scratch handicap player within two years. She turned professional and joined the LET Access Series, winning the Jabra Ladies Open, a co-sanctioned event with the LET, in 2018, which gave her a winner's category of membership.
She has since reduced her physiotherapy workload to focus on golf full-time but still practises for several weeks a year. It has been more difficult to secure work during the present period, due to restrictions on working in all but urgent cases, but she is grateful to have the opportunity to give back and help others in society.
"The comments I have received from patients who have not received physiotherapy for weeks have filled my heart with joy. Salary-wise, as a community physio I would make a lot more money than in a care home, but I feel useful and hearing the positive comments  makes me feel happy to be able to help," she said.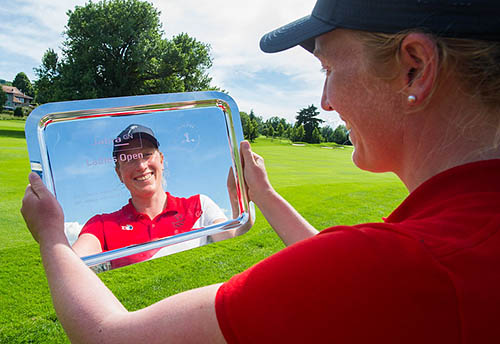 "There are some similarities between physio and golf. Golf is not a game of swings. It's a "simple" game of questions and answers. Every shot is a question you have to answer so it's very much a brainy sport. As a physio, you assess the patients and ask yourself what problems you have to solve. You have to be resourceful and it's the same skill set in terms of problem solving.
"The one thing that is not the same of course is that golf is all about yourself even if you are surrounded with a swing coach, a putting coach, a sports psychologist… With my patients I work with a multi-disciplinary team but the big difference is that the objective is all about the patients whereas in golf it's all about me, me, me!
"I am a golfer and a health care professional, so I will continue to play golf from 7-9pm three nights a week. They are long days but I need to keep training and playing golf during the lockdown. Although I can't play competitively, I can work as a physio, so I wear my second hat with pride, but I can't wait to be back on tour. I like physio but I love golf!"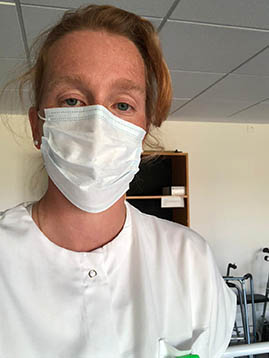 Astrid described her current job in the retirement home as challenging, not only because of the age of her patients and their cognitive abilities, but also because of the additional safety procedures put in place to minimise the threat of spreading coronavirus.
"Wearing the mask all day is full on and I can't count how many times I've washed my hands. Every time you go to the physio room it's clean, re-clean, re-clean, so it's just something extra to think about," she said.
"Luckily, we've had no cases of coronavirus in the care home. There was one suspected case but in the end, she tested negative. Usually there are four community physios going into the care home, but because they wanted to minimise the risk of someone bringing the virus in, I am employed as the one full-time physio and they have done the same with the doctors. I'm taking my temperature twice a day and they are very thorough."
Astrid is used to rising to challenges. As a child, she completed her school studies at the age of 16, followed by a first degree in Law. Having completed an LLM at a French university, she earned a work placement at the European Commission, but she rejected the offer as she knew deep in her soul that she wanted to work in healthcare.
Reflecting on that time, she said: "I grew up in a family which was very medically orientated. My dad was a GP and my mum was a nurse. They got divorced when I was 14 and I got my equivalent of A-levels at 16, which was quite early. I was still angry about what was happening in my family so I picked Law for the wrong reasons.
"Sports was in my heart as I had played tennis from 5 to 14 years old and I was a county level player. I met a lot of physios and thought they did a good job and my brother is a physio as well. My experience in sport and my family background was pushing me towards that.
"I have never regretted becoming a physio, but golf became a calling I couldn't ignore and it has grabbed me ever since."
Astrid fought hard to keep her LET card in 2019, rising to the challenge with a fifth place finish in the season-ending Magical Kenya Ladies Open.
She started the 2020 season with a tie for 17th in the Geoff King Motors Australian Ladies Classic, followed by 63rd in the NSW Open and T57th in the Investec South African Women's Open, making all three cuts to sit in 38th position on the Race to Costa del Sol rankings.
"I'm very pleased with the state of my game and with the implementation of the work I did at the start of the year with my new mental coach, Fred Cliquet," said Astrid. "Still some work to do but I remain excited about the prospect of the golf that lies ahead, both this year and in 2021. A cheerful heart is good medicine!"
Source: Ladies Eurpean Tour