February 15, 2019

The Scoop

Sergio Garcia's odd claim, big money changes to the European Tour, and Phil Mickelson drops a bombshell. Alex Perry explains
Hello. Welcome to this edition of The Slam. Now, remember when Sergio Garcia smashed a bunker apart at the Saudi International?
I know you do, but just for good measure:
Sergio Garcia's meltdown in a Royal Greens bunker a day prior to his disqualification for vandalism work on five greens. Story by @SkySportsGolf fills in details. Translations welcomed! https://t.co/UoGmPtTOz4pic.twitter.com/dQMDN7y2PC

— Geoff Shackelford (@GeoffShac) February 4, 2019
Barely 24 hours after that sandy swashbuckling Garcia was disqualified for deliberately damaging five – FIVE – greens.
This week though, the Spaniard is back in the safe arms of the PGA Tour and he had this to say ahead of the Genesis Open:
If you don't want to read all of that, here's the highlight:
What happened is not an example I want to set, and it's not who I truly am.
Once again for those at the back:
What happened is not an example I want to set, and it's not who I truly am.
And now with just the huge final take isolated for effect:
It's not who I truly am.
I think you know where this is going, so let's jump straight in. Shall we do it in chronological order?
Who needs shoes?
This is my favourite, so it's almost a shame to be starting with it. During the World Match Play, Garcia hit a shot he didn't like and, after briefly considering a more traditional club throw, he took his shoe off and threw it into the crowd.
You know, just like we'd all do.
Watering hole
On the 13th hole during the 2007 CA Championship, Garcia missed a six-footer then, having tapped in and removed his ball, decided to replace it with saliva.
As you do.
Bunker mentality
Serg has got previous with bunkers, too. Here he is truly not being himself at the 2010 PGA Championship: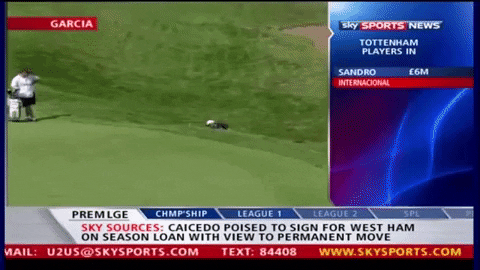 Thai tantrum
During the first round at the Thailand Golf Championship in 2011, two years before he won there, Garcia stuck a ball in the water at the par-3 8th. He didn't much like his reloaded shot, either…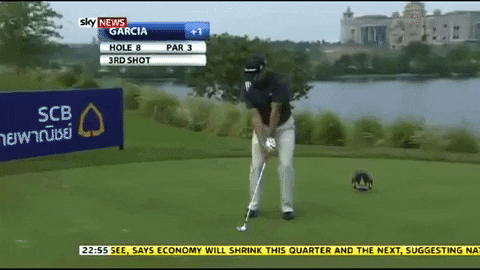 Mic drop
At the 2012 US Open, Garcia decided that one of ESPN's microphones was going to take the brunt of his anger at Olympic Club's 3rd hole:
Bushwhacker
Garcia also hates bushes. Here he is at the 2017 Open hating a bush at Royal Birkdale's par-3 4th:
Update: This is how Sergio hurt his right arm. Took a swipe at the gorse … and the gorse won. #TheOpenpic.twitter.com/Z3uYcQNfBX

— Ryan Lavner (@RyanLavnerGC) July 21, 2017
NCG's Mark Townsend, who witnessed the whole sorry affair, wrote at the time:
[Garcia] then spent the next few holes in obvious pain, had to receive some on-course treatment and there was the possibility of maybe withdrawing.
He didn't withdraw. He also didn't win The Open.
Texas hold up
And finally, another tournament, another club toss, another bush.
Hovering around the cut line during the second round of the Valero Texas Open, Garcia did not much like his drive at the drivable par-4 5th hole. So he linged his big stick in the thick stuff.
This one is particularly hilarious-slash-painful to watch due to Garcia having to go through the rather embarrassing rigmarole of fetching his previously airborne club.
Oh it gets worse. He shanked his second shot across the green before eventually getting down for bogey. He missed the cut.
Won't be needing this. pic.twitter.com/xbe9abvCjn

— Skratch (@Skratch) April 20, 2018
So just to recap, that's two club throws, one shoe throw, two bunkers decimated, one bush attacked, one microphone destroyed and one hole full of spit.
But remember folks:
It's not who I truly am.
Race to riches
Back to the European Tour, if you're wondering what the Saudi money is being spent on, they announced this week some significant changes to the Final Series.
Notably, the season-ending DP World Tour Championship now offers £2.4 million for the winner. That's the largest winner's cheque in professional golf – or any golf, to be fair – and significantly more than the £1m won by Danny Willett last year.
The top prizes for the Turkish Airlines Open and Nedbank Golf Challenge have also substantially increased to $1.6m and £2m respectively. Last year's champions Justin Rose and Lee Westwood took home roughly half these amounts.
As for the season-long Race to Dubai the bonus pot will now be split between the top five, as opposed to the top 10, with the winner taking home £1.6m, up from the £975,000 Francesco Molinari won in 2018.
And that's not all, because the European Tour also announced it will move to a more FedEx Cup style system, with the top 70 in the Race to Dubai qualifying for Turkey, then the top 60 will head to South Africa, and – you guessed it – the top 50 will make it to Dubai for a shot at that huge first prize.
Nice work if you can get it.
No big deal for Phil
While NCG's Steve Carroll was at TPC Sawgrass this week waxing lyrical about how he would play the 17th over and over until he could no longer move, Phil Mickelson has decided he probably won't bother this year.
He told Golf Channel:
It's not one I feel like I have to play.

"It's not a must-play for me because I'm 48 and I've played it 25 times and I've already won it.

"If I were young and early in my career, I would say yes because I think it's as close to a major as it can get. But it's not the best course for me.
He sure as hell wouldn't say this about The Masters, PGA, US Open or Open, so I think that puts all the "fifth major" chat to bed…
Right, that's enough from me, but before I go, here is some recommended reading from the week, including Mark Townsend's hilarious chat with Shubhankar Sharma, the first in a new series called 'Club Golfers vs.', the ongoing Matt Kuchar row, and why gimmes should be banned from golf.
Recommended reading
Source: National Club Golf